At CGCC we believe that God calls some of us to go and reach different cultures with the gospel of Christ. Here you will meet some of our church family who are serving in overseas contexts. We support them through prayer and financial support.
Jason & Kim Job - Timor Leste
Missionary Aviation Fellowship
(
MAF
)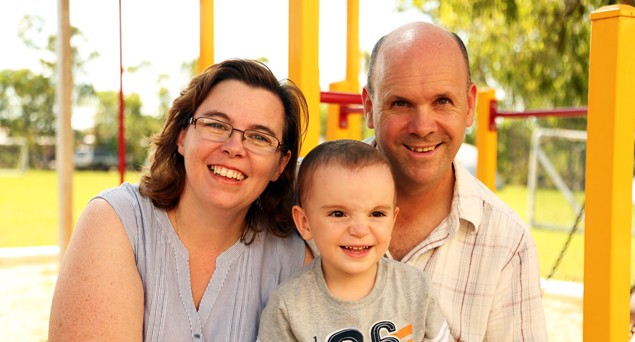 Jason and Kim married in 2006 after meeting each other at a Bible College Open Day. Before their marriage, Jason had served with YWAM (Youth With A Mission) for several years in Australia and America. Kim, a secondary teacher, had worked with SIM (Serving in Mission) in Ethiopia teaching in at Bingham Academy, a school for missionary children. The dream to fly in mission aviation had been with Jason for many years, but it wasn't until 2011 that this dream became a reality. After training at ACMA (Australian College for Mission Aviation) in Coldstream, Victoria and receiving his Commercial Pilot's License, they were accepted to work with Mission Aviation Fellowship (MAF) in Arnhem Land. During their life in Melbourne, Jason and Kim fellowshipped at Canterbury Gardens Community Church and were commended to mission service with AMT in 2011.
Samuel was born in 2010 and is a bundle of energy. He loves World War 2 planes, Lego and reading. The Job family served with MAF in Arnhem Land for four years in Numbulwar and Elcho Island. In 2016, the family relocated to Dili, Timor-Leste where they served until June 2020. Jason was the manager of the Program and a pilot. Kim was the MAF Communications Officer for the country, writing stories and articles about MAF's work in Timor-Leste. In late 2020, the family relocated to Atherton, Queensland to serve at MAF's engineering base for the Asia Pacific Region which includes PNG, Timor-Leste, Bangladesh and Arnhem Land. Jason is retraining and completing an apprenticeship to become an aviation engineer, which involves a combination of studying engineering theory and actively working on MAF aircraft in the hangar. We are getting to know how life in a country town works, getting to know our neighbours, members of our local church and others in our community.
Chris & Judy Ayers - New Zealand
Chris and Judy, together with their four children currently live and serve in New Zealand with Pionners. Chris is the National Director for Pioneers in New Zealand. The family is based in Auckland. They work out of the Pioneers office there and their main responsibilities include:
Serving local churches with biblical teaching and missional training
Discipling and training new missionaries
Pastorally caring for current missionaries on the field
Overseeing the running of the NZ Pioneers office
Representing Pioneers NZ both nationally and internationally
Working together with other mission leaders on global mission strategies
More about Pioneers : Pioneers New Zealand
Wes & Esther Dale - Papua, Indonesia

Wes and Esther normally live in Mamit, a mountain village in Indonesian Papua. However, they are currently based in Launceston, due primarily to visa issues and the current Covid crisis while maintaining support for the Mamit ministry remotely from there.
Wes and Esther have in the past been involved in the work of Bible translation for the Western Dani or Lani people of Papua, Indonesia. There are 17 language groups in the wider "Dani" area, each fully recognized as separate languages not just dialects.
There are almost one quarter of a million people in the Western Dani language group with over 800 churches.
The Old Testament was completed by the translation team in 2005. The New Testament was fully revised then the whole Bible published in 2009. A Children's Bible based on the Lion's Children's Bible was completed about twelve years ago.
For the past eleven years Wes and Esther have worked with the Maranatha Bible School when in Mamit where Wes usually lectures in the Major and Minor Prophets. It is a 3-year course with 150 or more students. Esther takes responsibility for teaching the children of the Bible School students.
Brent & Shelly Weeks, Australia
Brent and Shelley serve with Reach Beyond in Melbourne, Australia. Brent provides technical support to thier studio and broadcast facilities while Shelley produces and schedules audio programming from numerous ministry partners, sharing the message of hope in Jesus in 30 different languages over shortwave radio to Asia. They have 3 adult sons, one living in Canada and two with them in Australia.
More about Reach Beyond: Reach Beyond